Bluehost Review Introduction
In a digital age where online presence is everything, choosing an exemplary web hosting service is akin to selecting the perfect plot of land to build your dream house. Bluehost is a name that frequently pops up in discussions about web hosting. With over two million websites hosted and a reputation for being a reliable and versatile provider, it's no wonder many individuals and businesses turn to Bluehost. But does it truly live up to the hype?
In this in-depth Bluehost review, we'll dissect every factor contributing to a hosting service's quality – from performance to features, customer support, pricing, and more. When you finish reading, you'll clearly understand whether Bluehost is the right choice for your online venture.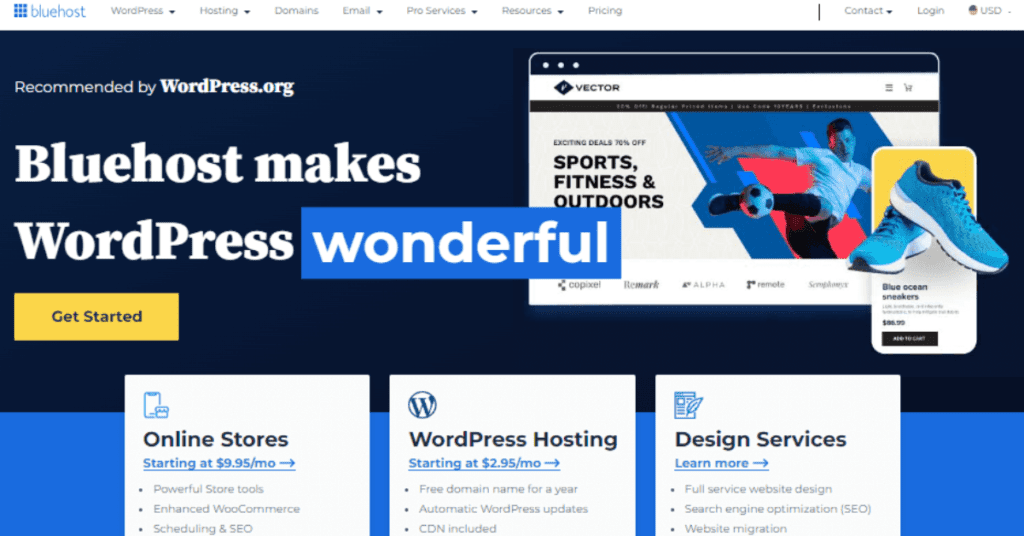 Why Bluehost Hosting?
Before we dive into the heart of this review, it's essential to understand why Bluehost is such a popular name in the hosting industry.
Bluehost was founded in 2003, making it a well-established player with nearly two decades of experience. WordPress officially recommends them, which is a big deal if you plan to use this popular content management system (CMS). Furthermore, they offer a broad range of hosting options that cater to various needs, from shared hosting for beginners to more advanced solutions for experienced web admins.
The Bluehost Hosting Experience: Features and Performance
Ease of Use
A hosting service's ease of use is often the first factor users consider, especially if they're beginners. Bluehost is known for its user-friendly interface, making it a fantastic option for those who are just starting or want a hassle-free experience. The control panel is intuitive; even the most tech-averse individuals can easily navigate it.
Speed and Uptime
Website speed is crucial in today's online landscape. No one likes a slow-loading website, and search engines penalize them. Bluehost understands this and offers impressive loading times and uptime. They provide:
A 99.99% uptime guarantee.
Meaning your website is up and running almost all the time.
Ensuring visitors can access your content whenever they want.
Scalability
Whether launching a small blog or managing a large e-commerce site, Bluehost has a solution to meet your needs. Their hosting plans are designed with scalability, allowing you to start small and expand as your website grows. This adaptability initially saves you money and ensures you can keep up with your site's evolving requirements.
Security Features
Bluehost takes website security seriously. They offer free SSL certificates with all their plans, which encrypt data transfers between your site and its visitors. This makes your site more secure and boosts your search engine rankings. Additionally, Bluehost provides a range of security features, including site backups, spam protection, and more, to safeguard your site against common online threats.
WordPress Integration
Bluehost's official recommendation by WordPress is a significant feather in their cap. If you're planning to use WordPress as your CMS (which many people do), Bluehost offers a seamless experience. They provide one-click WordPress installations, automatic updates, and dedicated WordPress support to ensure your website powered by WordPress runs flawlessly.
Customer Support
When it comes to hosting-related issues, having reliable customer support is essential. Bluehost shines in this area, offering 24/7 customer support via live chat, phone calls, and e-mail. Their support agents are known for their knowledge and helpfulness, assisting with any technical issues or concerns you may encounter.
The Price Tag: Bluehost's Pricing Plans
Now that we've examined Bluehost's remarkable features and performance let's get down to the nitty-gritty: pricing. Bluehost offers various hosting plans designed to accommodate multiple needs and budgets.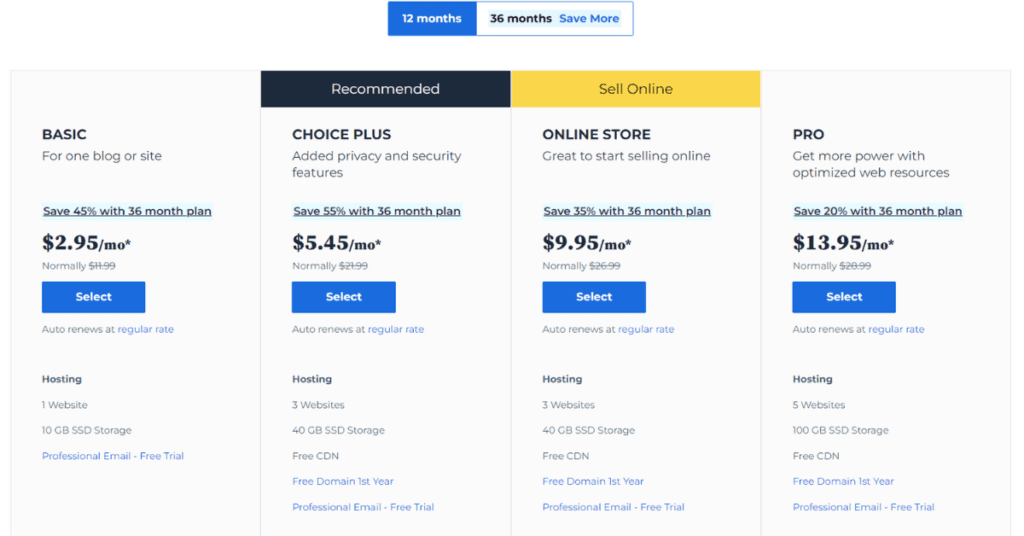 Shared Hosting
This is the most budget-friendly option, perfect for beginners or small websites. Prices start at just $2.95 per month, which includes hosting for one website, 50GB of storage, and unmetered bandwidth.
Would you like to know more about Shared Hosting
VPS Hosting
Bluehost offers VPS hosting starting at $18.99 monthly for those requiring more power and control. With VPS hosting, you get dedicated resources and greater flexibility to customize your server environment.
Dedicated Hosting
Dedicated hosting is the solution for running a high-traffic or resource-intensive website. Plans start at $79.99 monthly, providing complete control over a dedicated server.
WordPress Hosting
Bluehost also offers managed WordPress hosting, starting at just $2.95 per month, making it an excellent choice for those who want the convenience of a fully optimized WordPress environment.
eCommerce Hosting
Bluehost provides WooCommerce hosting for online store owners at $6.95 per month. This plan is tailored to the specific needs of e-commerce websites, with WooCommerce pre-installed and optimized.
While Bluehost's introductory prices may seem enticing, it's important to note that these rates are for the initial term and renew at a higher price. However, this practice is standard in the hosting industry. Furthermore, Bluehost offers a 30-day money-back guarantee, allowing you to try their service risk-free.
Note: Please check Bluehost's updated Pricing here
Bluehost in the Real World: User Reviews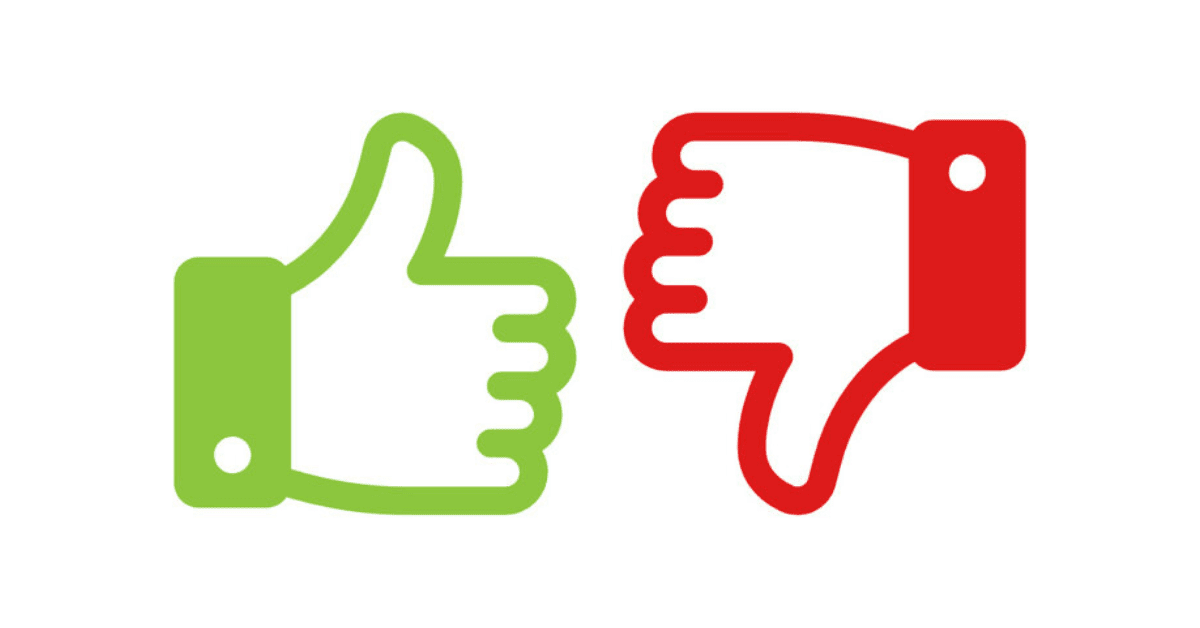 One of the most effective ways to gauge the quality of a hosting service is to look at what actual users have to say. A quick online search reveals a mixed bag of opinions in Bluehost reviews. Like any hosting provider, Bluehost has its strengths and weaknesses. Let's delve into some everyday user experiences:
Positive Experiences:
Many users praise Bluehost's reliability, citing excellent uptime and fast loading speeds.
The user-friendly interface is often highlighted, making it an excellent choice for beginners.
Bluehost's WordPress integration is highly regarded, particularly for the seamless setup and management of WordPress websites.
Customers appreciate the 24/7 customer support, often describing it as responsive and knowledgeable.
Negative Experiences:
Some users have reported occasional issues with server performance, particularly on shared hosting plans during traffic spikes.
Renewal prices can be higher than the introductory rates, which is frustrating for budget-conscious customers.
While customer support is generally well-received, a few users have reported mixed experiences with some support agents.
It's important to note that user experiences can vary widely. What works perfectly for one person may not be the best fit for another. Consider your specific needs and priorities when evaluating these reviews.
Is Bluehost the Right Hosting Choice for You?
By now, you should have a solid grasp of what Bluehost brings. It's a reliable hosting provider with excellent performance, user-friendly features, and impressive WordPress integration. If you're beginning your online journey or seeking a dependable hosting option for your WordPress site, Bluehost is worth considering.
However, no hosting provider is perfect; your choice ultimately depends on your unique requirements. Here are a few scenarios where Bluehost might be the ideal choice:
Starting a Blog or Small Website: Bluehost's shared hosting plans are perfect for bloggers and those launching small websites on a budget.
Using WordPress: If you plan to use WordPress as your CMS, Bluehost is a top choice due to its official WordPress recommendation and optimized environment.
Reliability Matters: If you can't afford downtime and want a host with a strong track record of uptime, Bluehost is a reliable option.
Room for Growth: With its scalable plans, Bluehost is suitable for websites anticipating growth and needing the flexibility to upgrade as they expand.
eCommerce: If you're running an online store, Bluehost's WooCommerce hosting is tailored to meet your needs.
If you're seeking advanced features, require top-tier server performance, or are on a tight budget, consider exploring other hosting options.
Conclusion: The Bluehost Verdict
In this comprehensive Bluehost hosting review, we've explored the world of Bluehost, its features, performance, pricing, and real user experiences. Bluehost has earned its reputation as a reliable hosting provider with a strong focus on WordPress integration, making it an excellent choice for bloggers, small business owners, and those who value website uptime.
While Bluehost has its flaws, such as occasional performance issues and higher renewal prices, it remains a competitive player in the hosting industry. Whether Bluehost is the right hosting choice depends on your needs and priorities.
Remember, choosing a hosting provider is crucial for your online presence. So, take your time, research, and weigh the pros and cons to ensure your hosting provider aligns perfectly with your website's goals and requirements. Happy hosting!